Hammer Films or Hammer Film Productions created Gothic horror movies in the 50's and 60's. This company hails from London, England. We'll zero in on
Curse of the Werewolf .
It debuted in 1961. The flick was inspired by the novel
The Werewolf of Paris
authored by Guy Endore.
The setting is in Spain in the 18th century. The werewolf, Leon is born on Christmas. His mother was molested by a vagabond. She is voiceless; she cannot speak. She dies in childbirth and the boy is raised by Don Alfredo. Upon a full moon he becomes a werewolf and attacks a woman and then a prisoner, also a guard.
His romantic love for Cristina and her mutual feeling can stop his curse, but he finds out too late. His affectionate step-father though upset shoots him with a silver bullet.
From an artistic viewpoint, the music, photography, and set design are great. The director, Terence Fisher, had a great vision for the Gothic horror mood, look, feel, and atmosphere.
It was produced by Micheal Carreras and Anthony Hinds and written by Hinds.
The Stars
Oliver Reed
Clifford Evans
Michael Ripper
Yvonne Romain
Anthony Dawson
Caherine Feller
It gets 60% at Rotten Tomatoes.
Lamp in the Night is a scary designer Halloween mug.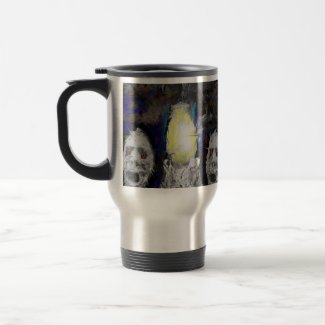 Lamp in the Night1 Mug
by
Deltachord
You can use a different mug with this design too. Just click and follow the instructions. Look at all the views of your mug before you purchase.